The Hawaii Regional Convention of NA (HRCNA) has been organized since 1992.  The event rotates throughout the Hawaiian Islands and is hosted by an area service committee on Kauai, Oahu, Maui or the Big Island.
---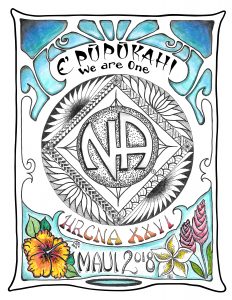 Please join the Hawaii Fellowship  for the Hawaii Regional Convention of Narcotics Anonymous XXVI to be held in Lahaina, Maui, October 25-28, 2018. The host venue is the Royal Lahaina Resort (map). 
The Royal Lahaina Resort has been sold out!
The HRCNA XXVI Committee has secured an alternative hotel for the convention with a discounted rate at the Aston Maui Kaanapali Villas (map).
To make your reservation please contact a staff member directly at the hotel.  Please call Kei at the hotel, 808-442-6012. Or you can email her at Idahleekeishelle.Barroga@aqua-aston.com with your request.
Please identify yourself as a participant of the Hawaii Regional Convention of Narcotics Anonymous to receive the discounted room rate.
Do not attempt to make your reservation directly thru their website or call the normal hotel reservation line because you will not get the discounted room rate!
Registration flyers are available here:
You may also register online with you credit or debit card:
https://form.jotform.com/bullit1987/hrcna-26-registration
Any questions or requests please contact the host committee through the following email address: hrcna2018@gmail.com
---
FOR MEMBERS FROM OFF THE ISLAND OF MAUI
For a downloadable Maui meeting schedule in PDF format:
Maui Meeting Schedule October 2018
For an interactive version of the Maui meeting schedule that has links to Google Maps (for directions) please go to our BMLT page for Maui. (BMLT stands for Basic Meeting Toolbox, which is a map based program that utilizes Google Maps.)
Although not necessary to use the BMLT to access meeting lists, Apple IOS device users can use this App for a better interface experience:
https://itunes.apple.com/us/app/na-hawaii/id1002376261?mt=8
---
HCRNA XXVII will be held on Oahu, October 24-27, 2019.
The venue will be the Ala Moana Hotel, 410 Atkinson Dr, Honolulu, HI 96814. Reservation details will be released in the near future. Do not contact the hotel until we have the information confirmed.
Registration flyers will be available in February of 2019 on this website.
Want to speak at the convention? Carlos B, Programming Chair, requests that speaker audio be sent to him by mail to: 94-576 Poloahilani St, Mililani, HI 96789. You can contact Carlos by email chyzone1@gmail.com or by phone (808)782-1298.
Want to submit artwork for the convention? Send your artwork to josephisal8@gmail.com by December 31, 2018.
Mahalo,
Derick G, Chairperson
(808) 542-3749