The Hawaii Regional Convention of NA (HRCNA) has been organized since 1992.  The event rotates throughout the Hawaiian Islands and is hosted by an area service committee on Kauai, Oahu, Maui or the Big Island.
---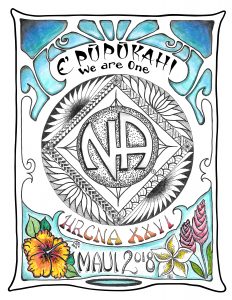 The Hawaii Regional Convention of Narcotics Anonymous XXVI held in Lahaina, Maui, October 25-28, 2018, was a great success. Thank you to our members and the host hotel for the wonderful times we shared. – HRCNA XXVI Host Committee
We have excess merchandise from the 26th Hawaii Regional Convention of NA held on Maui this past October.
You can order t-shirts and lapel pins with a credit or debit card over the internet here:
https://form.jotform.com/bullit1987/hrcna-26-excess-merchandise
Quantities are limited .
Mahalo,
HRCNA 26 Host Committee
---
HCRNA XXVII will be held on Oahu, October 24-27, 2019
The venue is tentatively set for the Sheraton Princess Kaiulani, 120 Kaiulani Ave, Honolulu, HI 96815.  Reservation details will be released in the near future. Do not contact the hotel until we have the information confirmed.
Registration flyers will be available in February of 2019 on this website.
Want to speak at the convention? Carlos B, Programming Chair, requests that speaker audio be sent to him by mail to: 94-576 Poloahilani St, Mililani, HI 96789. You can contact Carlos by email chyzone1@gmail.com or by phone (808)782-1298.
Want to submit artwork for the convention? Send your artwork to josephisal8@gmail.com by December 31, 2018.
Mahalo,
Derick G, Chairperson
(808) 542-3749