This page is for listing information on Gatherings within the Hawaii Region. "Gatherings" are annual social events coordinated by area service committees to celebrate recovery.  Gatherings are normally set up at private recreation sites or in public parks for overnight camping.
NA members may send informational updates through our feedback form posting on this page.
---
The Big Island Gathering
The Big Island Gathering for 2020 has been cancelled due to the COVID-19 emergency.
Virtual Big Island Gathering
Download the PDF for details of the program and the Zoom details BIG Program (PDF).
For questions contact Anna S, annaaloha[at]yahoo.com, 808-987-8818.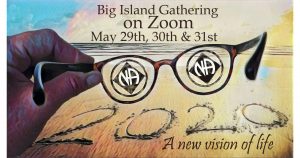 ---
Maui Gathering
April 18, 2020:  The 2020 Maui Gathering has been cancelled due to the COVID-19 emergency.  The dates will be announced later but there is 
---
Oahu Gathering
The 36th Oahu Gathering has been postponed due to the COVID-19 emergency. New dates have been secured for the Gathering next year: April 9-11, 2021
Please read this PDF file on the postponement from the Gathering Committee:
Updated: 2020-2021 NA Oahu Gathering Notice
Registration will remain open via postal service and the online registration will be closed until after the Regional Convention in October.
The registration form will be updated in the near future to reflect the postponement. Below is the original registration form:
Oahu Gathering Registration Form
If you have questions you can contact the Gathering Committee members:
David L – Chair – 808-343-8054

Cy T – Vice-Chair –  808-724-4864

Josephine S – Treasurer – 808-368-4332

Claudia F – Registration – 808-371-7327
---
Kauai Gathering
There will be no 2020 Kauai Gathering in 2020 due to the COVID-19 Emergency.